Defining Universe
The Universe is the population of the group measured and is based on two components: The demographic profile and the geographic area.
Geography & Universe
Geography is the media market from where the advertisers sources their business. It can be identified through standard media markets like a Designated Market Area (DMA) or Core Based Statistical Area (CBSA), or even customized breaks such as individual counties, zip codes, and Census Block.

Population differs by geography
Selecting the geography that advertisers want to evaluate OOH against is critical as each area has a different population base. For example, Fulton County, where Atlanta is located shaded in dark green, is much smaller compared to the CBSA, which is smaller than the DMA.
Demographic Profile & Universe
Target Audience includes demographics and psychographics (which will be explored separately). Our metrics can be reported against a a variety of demographic audience segments based on Age, Gender, Household Income, and Ethnicity. These segments can be combined for more complex targets such as Females 18-34 with HHI $50,000+.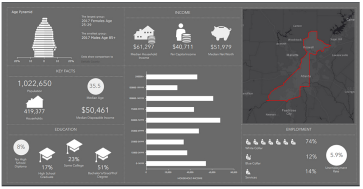 THINGS TO REMEMBER:
Universe is the total group of persons in a specific geographic area that share a common characteristic.
The combination of audience segments and geography will affect the universe size for the campaign.
If you have any questions or comments, please reach out to geekout@geopath.org!