What is Geopath audience location measurement?
Geopath's audience measurement solution is the result of applying modern mobile location data technologies and leveraging cutting edge computing power to solve an age-old question in the out-of-home ecosystem.
"Who is my audience?"
Be it billboards, street furniture, transit media, or place-based media, our research and methodologies unify all out-of-home (including digital) into one connected resource. Geopath's aggregated anonymous audience insights reveal the unique characteristics of every out-of-home location in the United States by hour of day, day of week, throughout the year. Gathering all media measures in one standardized place enable media buyers and sellers to strategically plan and execute effective advertising campaigns on appropriate locations throughout the exciting and evolving world of out-of-home.
Recognizing that no single-source dataset existed which could provide a ubiquitous audience measurement solution for the seemingly infinitely scenarios of out-of-home media and audience interactions, and unwilling to settle for the risk associated with one data input, Geopath set out to build a state-of-the-art insights platform from necessary components of audience measurement across a multitude of resources, each appropriately suited and specifically designed to answering the question being asked of it. Geopath now curates required information across all roadways and places in the US to fully contextualize the movement of the entire US population. Only when the movements of the full population are understood can we place all out of home media locations side by side with one another for consideration.
In the right place…at the right time
The average person in the US travels over 40 miles daily. In the US, 325 million people take a combined total of 1.1 billion trips… EVERY DAY. Of those trips, 45% are for shopping and running errands, and out-of-home media is in the opportune position to deliver messages to that massive audience on-the-go.
Geopath audience insights cover every roadway, walking path, and public transport system in the entire US allowing our members to plan your media campaigns to deliver the right message to the right people at the right place and time.
Be seen!
All media channels can tell you how many viewable impressions were delivered, but no other media measurement can tell you how many people saw your message.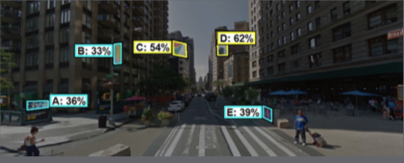 Geopath has conducted hundreds of hours of laboratory and real world mobile eye-tracking studies with leading experts in consumer biometrics to accurately predict if an opportunity to see will result in a message received.
An integrated approach to audience research...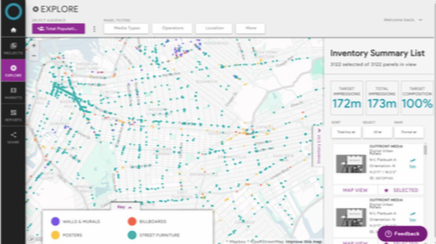 Geopath's new Insights Suite provides the ultimate flexibility in exploring audiences for all audited roadside, fleet & place-based media inn the out-of-home ecosystem.
Accuracy, precision, and stability are core priorities and considerations when developing Geopath's methodologies. Our members look to us to provide a rigorously reviewed 3rd-party media rating system to make it easier to plan, buy, and sell out-of-home media with confidence. Geopath's audience measurement methods are built upon 85 years of industry expertise and collaboration between member companies and leading research partners. The collective effort of the organization during development ensures that the output is capable and trusted. Within Geopath's new methods, the core building blocks remain the same (circulation, visibility, demographics, reach & frequency) but each have been greatly enhanced by recently available precise mobile location data.
Traffic volume, vehicular occupancy, and pedestrian volume are now interconnected with over a million DOT and sensor traffic count reference locations across the US and integrated with trip movement data from hundreds of millions of mobile devices and connected cars. The movement of mobile devices help us identify the true directional volume on a roadway, sidewalk, or point of interest by time of day throughout the year. Our process simultaneously ensures that each circulation counts aligns with counts in the surrounding areas. The context of movements and the trip motivations help us understand the number of people in vehicles and therefore the true audience with an opportunity to see a media location.
We use precise geospatial relationships between audiences and advertising spaces to derived dwell time for every unique opportunity by using traffic speed and walking speed. The precise understanding of each audience exposure also enables Geopath's visibility model to quantify the likelihood-to-see of every exposure for each moment throughout the week. At this point in the audience calculation process we have a solid foundation of how many people see out-f-home media, all the way down to the individual message. But knowing how many impressions are delivered is only part of understanding an audience.
In addition to computing how many audience impressions occur for each opportunity, Geopath determines audience demographics and audience profiles (built upon reported and observed behaviors as well as consumer transactions), which are fluid throughout the day and week. By leveraging mobile location data, Geopath's newly enhanced audience measurement system responds to the unique patterns of people going throughout their day, as they live, work, play, and shop, all tying back anonymously to audience home locations.
Lastly, with precise knowledge of trip patterns, trip frequency, and home locations, the duplication of audience and specific coverage within an area make the combination of any two out-of-home media locations unique as they complement each other in distinct ways. This capability will allow a never before seen sensitivity in reach and frequency, not only for audience in standard markets, but for any custom market geography or trade area, including the entire United States.