How did digital out of home ads change the needs of our industry to measure the audiences of ads on hundreds of thousands of structures throughout the United States? Geopath, the out of home industry's audience measurement organization, had to find a way to not only measure audiences as they travel past ads, but also determine audiences for ads as they rotate in time on thousands of digital structures.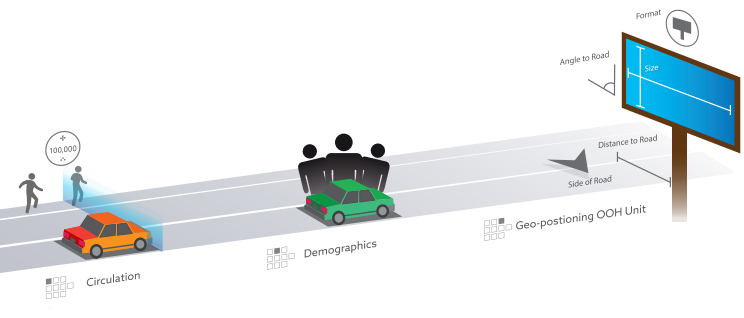 1. Circulation
The total volume of traffic that passes the display is derived from transportation authorities and converted into the number of people who pass he display during the week.
2. Demographics
Millions of trips are generated from publicly available travel surveys. They provide the demographic characteristics of the people who pass the display and the origin of their trips.
3. Geo-Positioning OOH Units
The position of the display is precisely mapped relative to the roadway from which it derives an audience. Factors that influence the likelihood that the ad will be seen are also captured.

4. Contact Zone
The road type and size of the display are used to determine the distance from which ads on a display can be seen. This is referred to as the maximum noting distance.
5. Speed Data
INRIX traffic data are utilized to determine speed of travel past each display by hour by day. Then total circulation for the week is allocated to each hour of the day.
6. Dwell Time
The amount of time people are within the display's contact zone can be determined for each hour of the day. The longer they are in the contact zone, the more likely they will see an ad.
7. Standard Ad Noting
High-tech eye-tracking research is employed to incorporate only those who actually notice the ad based on the display's size and positioning. we now also consider nothing distance and speed of passage to refine the measurement.

8. Number of Digital Ads
Now, out of home displays can carry one or more ads. For digital displays, the ad length (e.g. 8 or 10 seconds) and the number of ads in the rotation (e.g. 8 ads) are stored.
9. Opportunity to See a Digital Ad
Having determined the Dwell Time that people are in the Contact Zone, we determine the number of digital ads that can be seen as people pass at various speeds during the day. For example, for a time of day with moderate congestion, people might have an opportunity to see 3 of 8 digital ads in the rotation.
10. Digital Spot Noting
The eye-tracking research of digital ads is similar to the new eye-tracking of standard ads. It goes beyond the standard study by considering the number of digital ads that can be seen as people pass at various levels of speed throughout all hours of the day. The result is the ability to report the number of people who see each digital spot displayed on the structure.