Times Square is a one-of-a-kind space. Geopath recognizes this and so has made unique adjustments to its circulation estimates. These adjustments can never capture the broad power advertising in Times Square offers, but it does better reflect the opportunity that exists. Below is a summary.
VISIBILITY, DEMOGRAPHICS, AND REACH & FREQUENCY
Times Square measurement utilizes the same powerful visibility model as the rest of Geopath Out of Home Ratings based on high quality eye-tracking research to calculate the probability that an individual with an opportunity to see an ad will notice it. By incorporating new visibility factors like dwell time, the visibility model accounts for the prolonged periods people spend with advertising in Times Square.
All demographic composition data in Geopath Out of Home Ratings comes from millions of trip paths modeled from the latest Decennial Census Populations figures, Census Population projections, The National Household Transportation Survey, and the American Community Survey. Audience composition takes into account transportation type usage and trip-path modeling.
Using the transportation studies and trip path modeling from the demographic study, reach and frequency modeling is possible for all included transit formats and is reported for all
standard media markets.
Dwell time for all inventory is set at 10 minutes per pedestrian based on TSA surveys.
CAMERAS IN ACTION
Times Square Alliance has cameras mounted around all parts of Times Square. They are designed to count people as they pass through a zone. The counts from the cameras are passed on to Geopath, that derives an annual count that feeds into the circulation. Circulation is the foundation for audience measurement.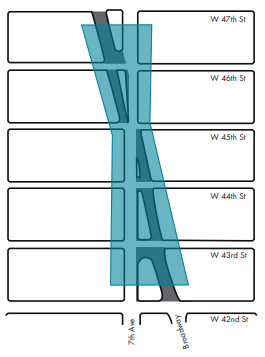 TIMES SQUARE: WHAT DOES GEOPATH DO DIFFERENTLY?
1. Creates a common pedestrian area, or tranche, that are counted by several types of cameras.
2. A more accurate dwell time as captured from surveys provided from Times Square Alliance.